Congratulations to TacSense for winning the first prize in the Guangdong Hong Kong Macao region of the 4th Tsinghua Alumni Innovation Competition
On March 28, 2019, the 4th Tsinghua Alumni Innovation Competition Guangdong-Hong Kong-Macao Division Finals and Lihe Cup Entrepreneurship Competition were successfully held in Bao'an District, Shenzhen. This is a competition that brings together the four core resources of "project, mentor, investment and government". The Guangdong-Hong Kong-Macao Regional Competition recruited 123 alumni projects from Guangdong, Hong Kong, Macao, Guangxi and Hainan regions, setting a new high. The industry covers TMT, artificial intelligence, advanced manufacturing, integrated circuits, Internet of Things, cultural and creative sports, biomedicine, urban construction and health. After the preliminary competitions in Shenzhen, Guangzhou, Zhuhai, Huizhou, Shantou and Guangxi, a total of 72 projects entered the finals of the competition area, and the "6+4" project roadshow was displayed on the spot. After fierce competition, TacSense's "flexible bionic tactile sensing technology" performed well in the competition and won the first prize in the angel group of this regional competition.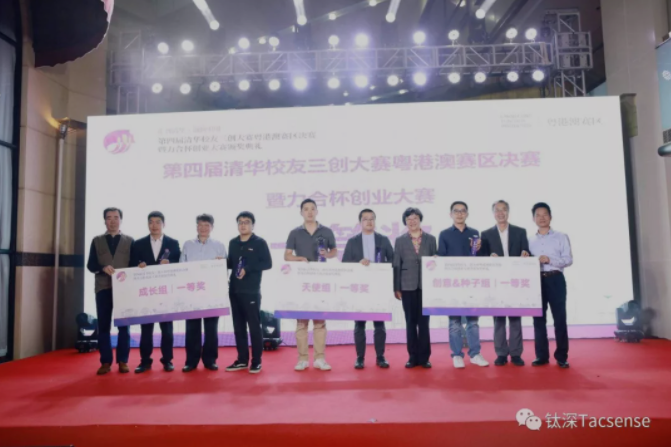 TacSense's flexible tactile sensor adopts the world's leading and innovative ultra-sensitive flexible tactile sensing technology: Flexible Ionized Sensing Technology (FITS). TacSense's flexible tactile sensor perfectly demonstrates the five characteristics of "flexible, transparent, dense, soft and thin". High sensitivity: signal-to-noise ratio 4000:1; High-density arrays: pitch less than 1mm2; Multi-form: can be all fabric; Thickness as low as 0.01mm.
TacSense's flexible ionic sensing technology is an innovative fourth-generation flexible pressure sensor technology, compared with the existing resistive, electric pressure, and piezoelectric flexible pressure sensor technologies. TacSense's solution perfectly integrates the advantages of the three existing sensor technologies, including high sensitivity, support for dynamic/static response, high noise immunity, good flexibility, full transparency, lower power consumption and lower cost.
If you are interested in our flexible tactile sensor technology, please feel welcomePartners call and write to consult. We also welcome friends in the same industry to pay attention to us and learn from each other



E-mail: info@tacsense.cn
Mobile: 15338761013
Recommended news