Lei Jun Live Experience! Titanium deep technology empowers intelligent cockpit human-machine interaction applications
On October 14, 2021, TacSense Technology, as one of Xiaomi's invested companies, was invited to participate in the Xiaomi Industry Investment Demo Day event. At this event, TacSense Technology not only exhibited the TAS pressure distribution measurement system for real-time monitoring of power battery expansion force, but also exhibited flexible true pressure sensing solutions for smart cockpits, smart phones, TWS earphones, health and medical treatment.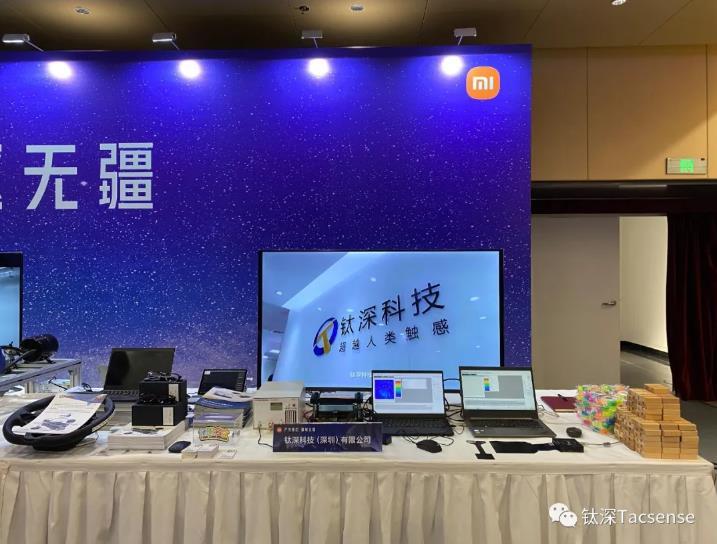 ▲ "Industry and Investment Lianxin, Intelligent Drive Without Borders" Xiaomi Industrial Investment Demo Day exhibits
Intelligent cockpit human-computer interaction application empowerment
TacSense's ultra-flexible, ultra-sensitive, and fully transparent pressure sensors can be widely used in automotive seats, steering wheels, body control, car interiors and other products. For example, TacSense's flexible pressure sensor can be added to the car seat, through true pressure sensing, the comfort of the driver's sitting position can be adjusted autonomously, the position can be quickly readjusted, and fatigue monitoring and reminder can be carried out. At the same time, TacSense's HMI module can also be added to the interior and steering wheel to achieve true pressure-sensitive touch. By detecting the driver's grip on the steering wheel in real time, whether it is holding with one hand, holding with both hands, or leaving with both hands, it can automatically turn on different levels of autonomous driving, and can learn the driver's gestures for gesture recognition and control. At this demo day event, TacSense Technology exhibited a steering wheel that can display the output of pressure touch and true pressure value in real time, and demonstrated the ultra-high sensitivity of TacSense Technology's flexible ionization technology, which was experienced by Lei Jun, founder, chairman and CEO of Xiaomi Group.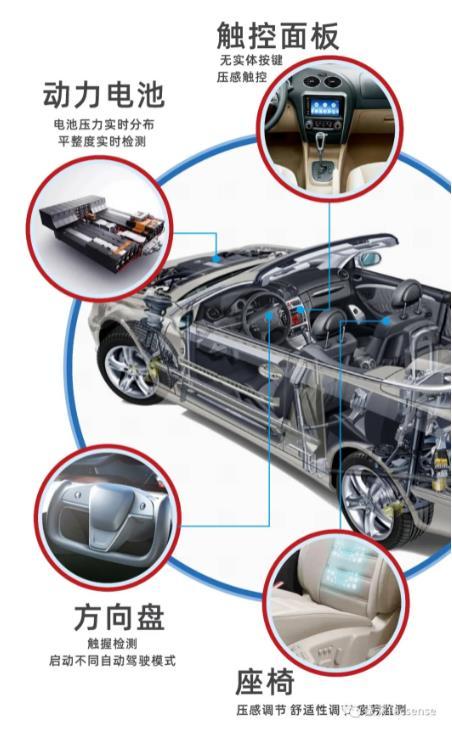 ▲TacSense's flexible pressure sensor is used in automobiles
TacSense's HMI modules applied to intelligent cockpits have been verified by customers, products and markets for mass production. It can better meet the light, heavy, long, short and other pressing and pressing interaction modes in human-computer interaction, as well as the real-time size of the knowledge force. At the same time, it has many advantages such as low power consumption, simple integration, low requirements for ADC, and no need for additional MCU.
According to the product characteristics of consumer electronics TWS earphones, TacSense Technology has developed SMT packaging sensors to achieve fully automatic production and assembly. The partners have experienced the TWS earphones integrated with the HMI module of TacSense Technology, and fully recognized this interactive experience and the prospect of TacSense Technology's true pressure touch solution.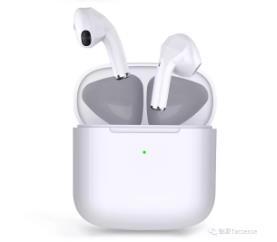 ▲集成了钛深科技HMI模组的TWS耳机
钛深科技的智能触觉眼镜采用全球最新一代触觉传感专利技术,是首款基于触觉技术的医疗级可穿戴方案。此产品目前已获得FDA许可,拥有超高灵敏度和抗噪性能优势。目前支持如下功能:
☛ 心率、呼吸、血压趋势的全天候监测
☛ 心血管系统相关动力学分析
☛ 心率变异性分析(HRV)-(如情绪、疲劳等)
☛ 体温连续监测
☛镜腿独特可拆卸设计,镜框可任意更换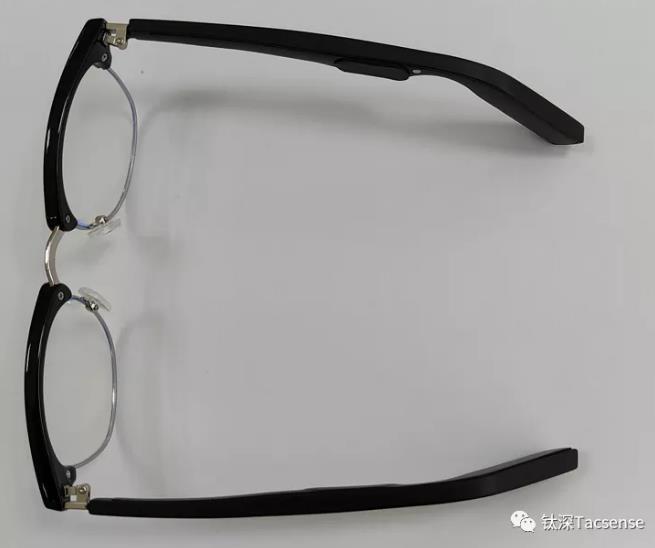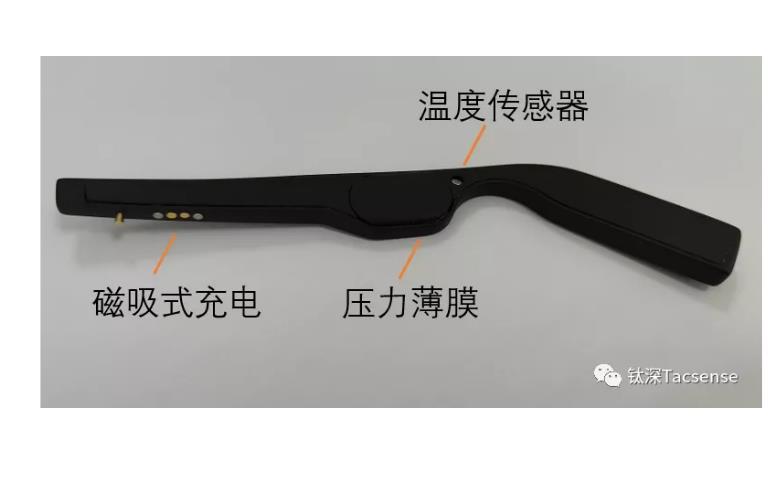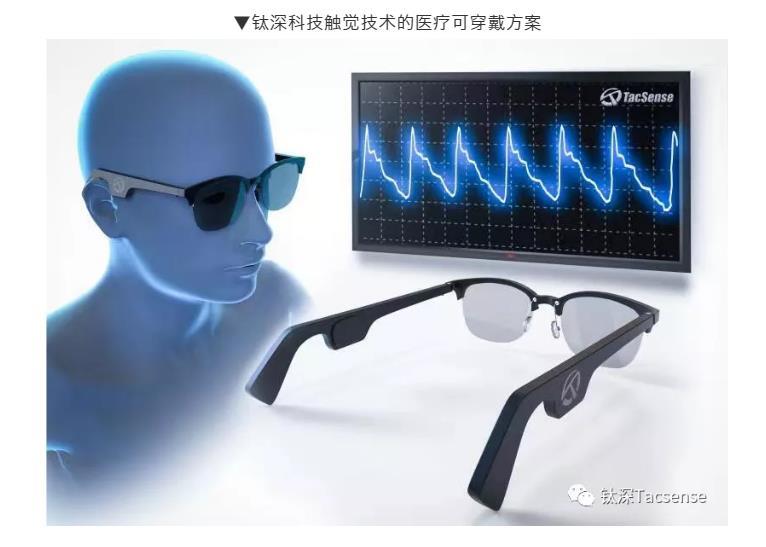 钛深科技的真压力柔性离电传感方案可广泛应用于新能源汽车的动力电池安全监测、智能驾舱人机交互及驾驶员生命体征监测等汽车电子各应用场景中。钛深科技是一家专注于柔性压力传感模组及触觉AI解决方案的高新技术企业。公司旨在将触觉感知技术真正赋能于消费电子与可穿戴、工业检测与机器人、医疗与健康、汽车电子与物联网等多行业领域。钛深科技拥有完全自主知识产权的第四代传感机理-界面离电式触觉传感技术,从技术原理上保证了高灵敏度、高信噪比、高线性度、真柔性的材料特性。公司基于材料特性打磨了应用于各行业的压力感知及检测系统的解决方案,不断解决各行业痛点问题,共同推动行业数字化发展。
Recommended news